This reroot was going into the unknown for me and was a bit of an experiment, im a bit nervous about showing everyone as i know she wont be everyones cup of tea !...when i bought caleb i could have used silky straight hair to reroot him and im sure he would have looked lovely but i wanted to try to do something more in keeping to what a child with afro hair may have. I did lots of research on afro hair extensions and was left a bit confused at the different types of hair used to achieve different looks, the hair i settled on didnt work so i used some i had in the cupboard so all the research was a bit of a waste of time !
Using the afro hair wasnt easy as it was frizzy and really hard to thread through the needle, i also used more hair in each plug than i usually would because i planned to braid the hair and i wanted the braids a certain size...
I was quite worried as you will see below when i had finished the rooting part, the hair was huge and if the braids didnt work i had no idea what to do with such a mass of hair ....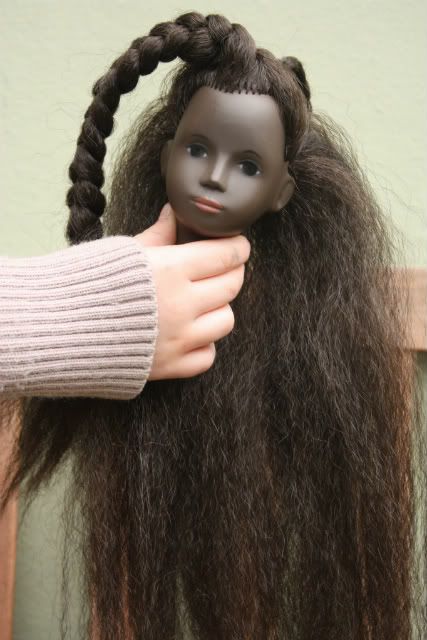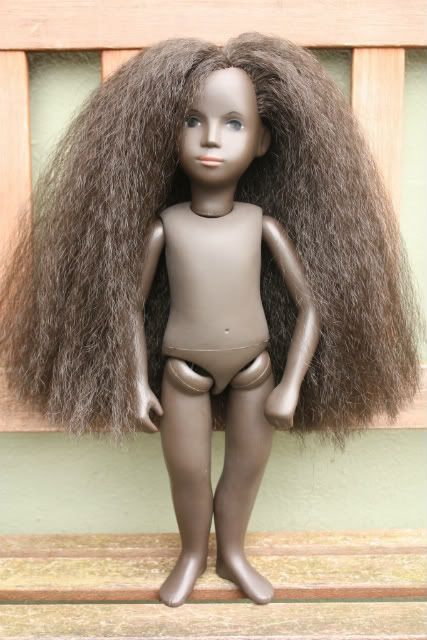 I started braiding from the back and it seemed never ending and i had still no idea what it was going to look like untill it was completely finished and the braids had been cut and sealed.....
My first impression was that i was SO disappointed, it didnt look at all as i expected,i have always liked andrea of the dollworks model who wears a braided wig.....but all that hair that i had rerooted had braided down to nothing and there was lots of scalp on show....but since yesterday it has grown on me, maybe ive not seen a sasha look like this before and thats why it takes some getting used to ?......
Today it is damp and foggy and ive taken about a million photos to try and show you what she now looks like, some taken outside and some in , theyre not the best photos as i had to brighten them all on the computer else she just looked like a silhouette....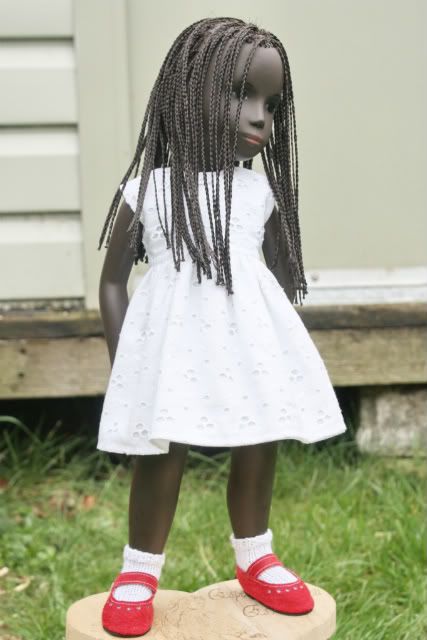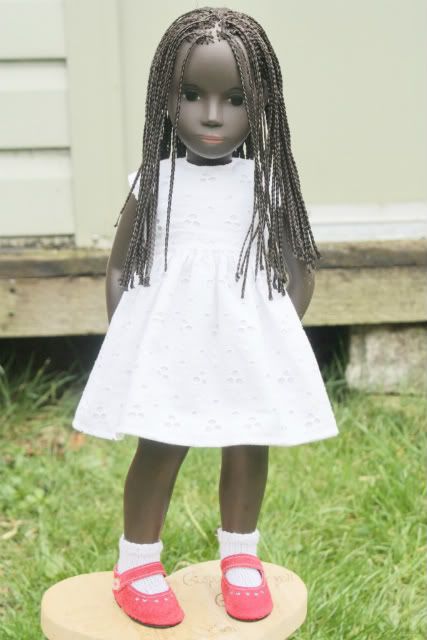 lastly a back view of the braids....i sealed them so they wont come undone but just to make sure i also melted the tips with the hair straighteners, i dont think i really needed to do this and its left little bobbles on the ends so i may snip this off...