I would love an early redhead girl but i doubt unless i win the lottery that i will ever have one !, this girl has been rerooted by Bettina and has a repro outfit by Rosie Bloom and her eyes have been beautifully repainted by Shelly. I dont know if she is a one off or there maybe more of these girls around, there is a lady in america who has one on her blog, (without repainted eyes) so i dont know if this girl was once hers or maybe she is unique ?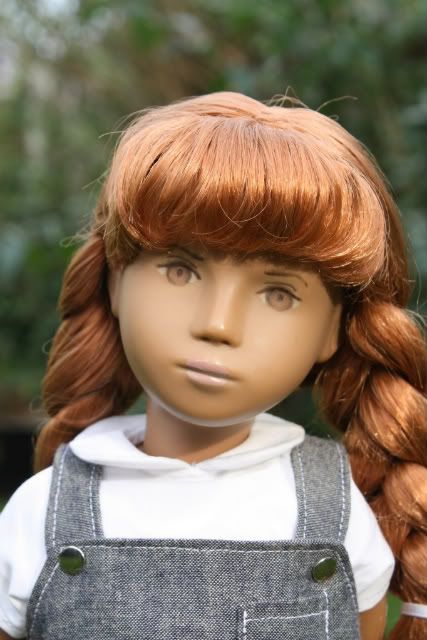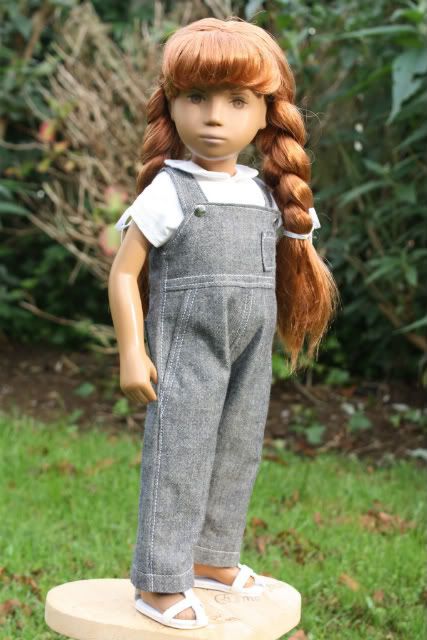 Even more than a redhead girl, i would like an early redhead boy , so quite a few years ago i decided to buy an 80s redhead and repaint his eyes. He was a bit of a disaster from the start, i saw him while scanning ebay in america late one night, there were minutes to go on the auction, he was extremely cheap with no bids, the description was good so i bidded and won, i realised the next day why there were no bids as the sellers feedback was the worst id ever seen, pages of red marks all saying "avoid". I was pleased that he actually did arrive but he was in pieces, i think he must have been placed together for the photos, as he was laid down, i contacted the seller with no response , paypal got no reply either, so i got refunded in full by paypal and ebay gave me a £10 voucher to say sorry for the inconvenience (not sure things like that still happen )...i got to keep the doll so i set about repainting, i thought this would be quite straightforward but soon realised it wasnt and it felt like an impossible task, over the years he has had lots of different eyes but ive never been happy with any of them, his latest look is passable at a glance BUT where i have removed the acrylic so many times it has left a slight dark look to the eye sockets and i cant get it off. This only shows slightly in natural light but i know its there and its gonna bug me, I dont want to remove the eyes again without knowing how to get rid of these marks...so any help would be welcome ! maybe the paint is engrained in the vinyl and will never come off ? i purposly included a photo that makes it look worse than it is, so you can see what im talking about as with a normal sunny camera setting it didnt really show up.....(this photo has also made the eyepaint look slightly darker than it really is)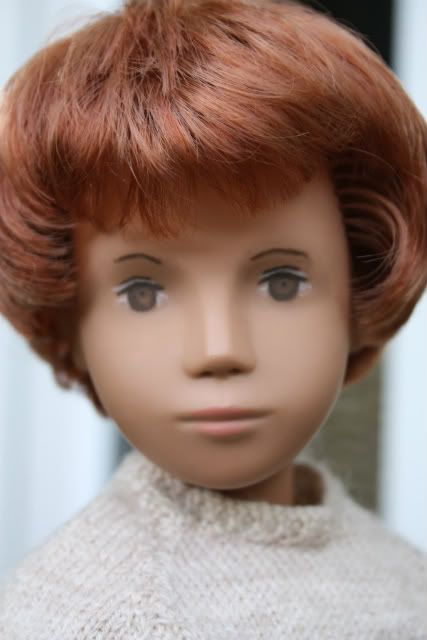 This next girl is my "mystery girl" mainly because of her lack of eyes....the jury seems to be out on why this is, one opinion was that someone had removed them and not repainted them back on, another is that this is the print from the factory, its the wrong colour for a blonde and the mistake was noted and the hand finishing was never done. Next is her hair, she has a near full centre part but stops just short of the bottom, did the person doing the hair realise that her eyes hadnt been done, stop the rooting and put her in the reject pile ?...shes strung with striped elastic that looks to be original and shes got lots of sand in her joints as if shes not been played with.....i will get round one day to reglueing the hem of her dress !